Why do people like Flappy Bird so much?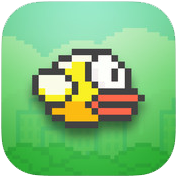 Flap your wings to fly…

[How to play]
> Tap to flap your wings to fly.
> Avoid pipes.
> Try to get 4 medals: Bronze, Silver, Gold (hard), Platinum (very hard)
My guess:
It's – totally- FREE
People just want to have fun and obviously don't want to spend money for that … who does? But I think they will spend money if the developer put some monetization, like items
Visual
It's a clone of Mario Bross art style, which is part of the history of many of us as gamers. This brings up our childhood memories and affections
Challenge / Ridiculously hard
Which is actually fun to share and talk about it. It's a hard work that we voluntarily do and enjoy, specially when we make a new record. I think that the game is so hard that people doesn't get frustrated so much … I don't think people will stop playing after losing because they think: "It's not a skill problem it's the game … so let me try again". They accept the game rules.
Social sharing / Recognition
Today everything is easy to share. You just need to share your score and you're done. People will always look for some sort of recognition, in this case by bragging 🙂
Immediate and Fast Restart / Trying again
You lose, you restart in one second and you try again and again. There's no obstacles for that.
Overall Simplicity
Everything is just simple. The interaction, the interface, the feedback and the game objective. The game is so simple that fools our mind to think that the game is actually easier than it is, so we keep playing and playing, hoping that we will beat our last record. The point system is another key element in my opinion that contributes to this: by keeping the points as low as possible the game seems to be easier than other games because the majority of them uses a higher point value or are more easy to get higher scores. … so we think "It should be easy to make 10 points" but it is NOT 🙂
….
Watch this video on You Tube too!
http://www.youtube.com/watch?v=8z3_B3FQ9aE
And this one if you want to laugh a lot! 😀
* Oh, this guy ^ has +22 MILLION subscribers. That means a HUGE boost on downloads 🙂